Five33 Headsup 2207 1950KV
A well designed motor from the MultiGP world champion.
Check out the full list of motors in this series here
Summary
Published: Feb 4, 2020 by babailey
Five33 is the new startup from 2-time MultGP Champion Evan Turner, this motor is the first (and so far only) motor in the five33 line. It is manufactured by Xnova, and shows some interesting design features.
Starting from the bottom: The feet are thick!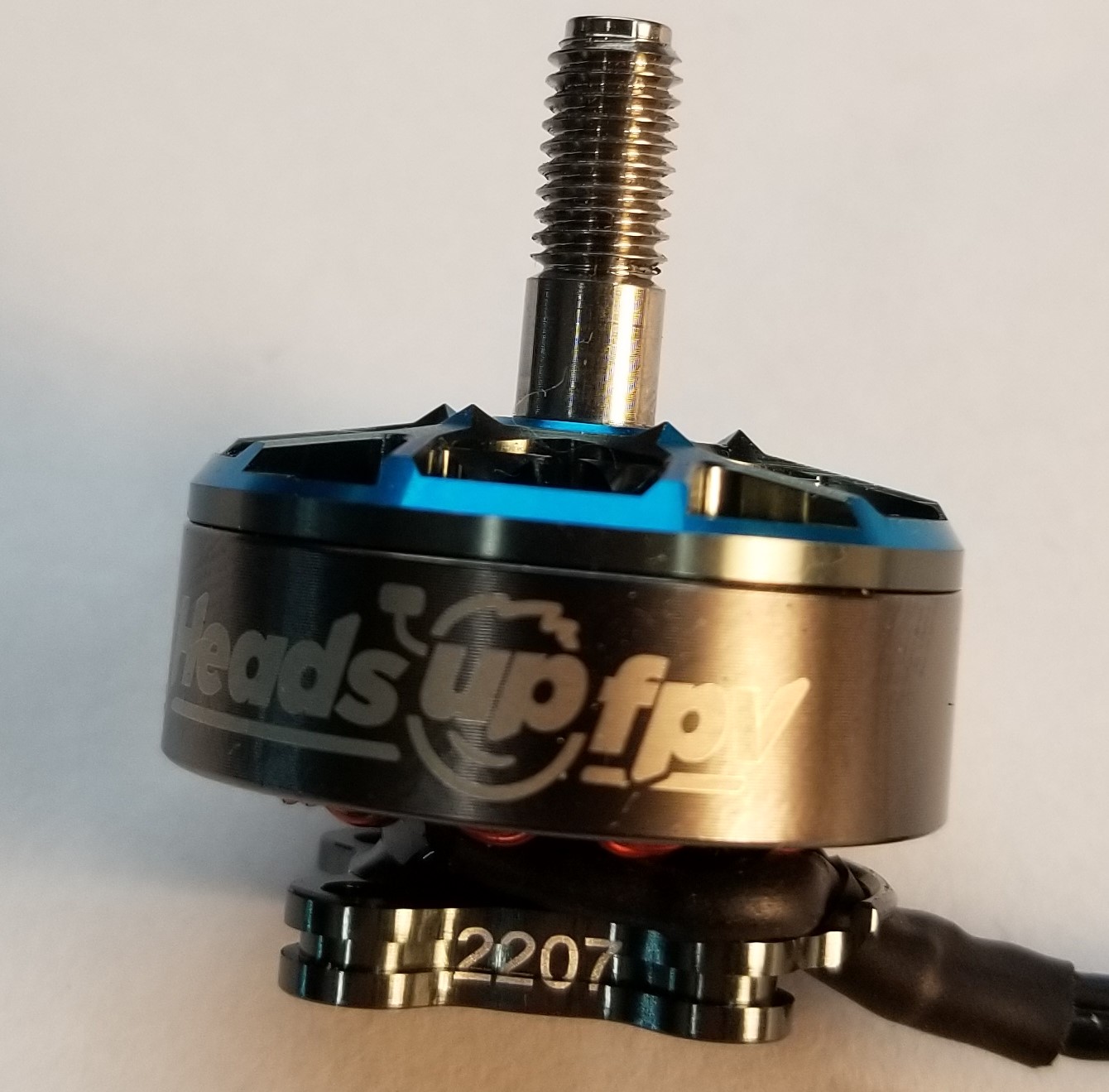 Almost every other motor we've tested has 2.5 mm thick feet. The Five33 motor feet are 3.25 mm. This allows for more engagement in motor bolts, but also reduces the likelihood of a bolt reaching up and touching the windings or motor wires. This motor uses a C-clip instead of a set screw to secure the bell. It also comes with an extra clip, should you lose or destroy the first one.
The machining on the top of the bell is quite intricate, and there are relatively large, tall, and sharp pyramids for prop retention. Time and statistics will show how good these are a holding props tight during crashes, but from the look, they should be significant to this end.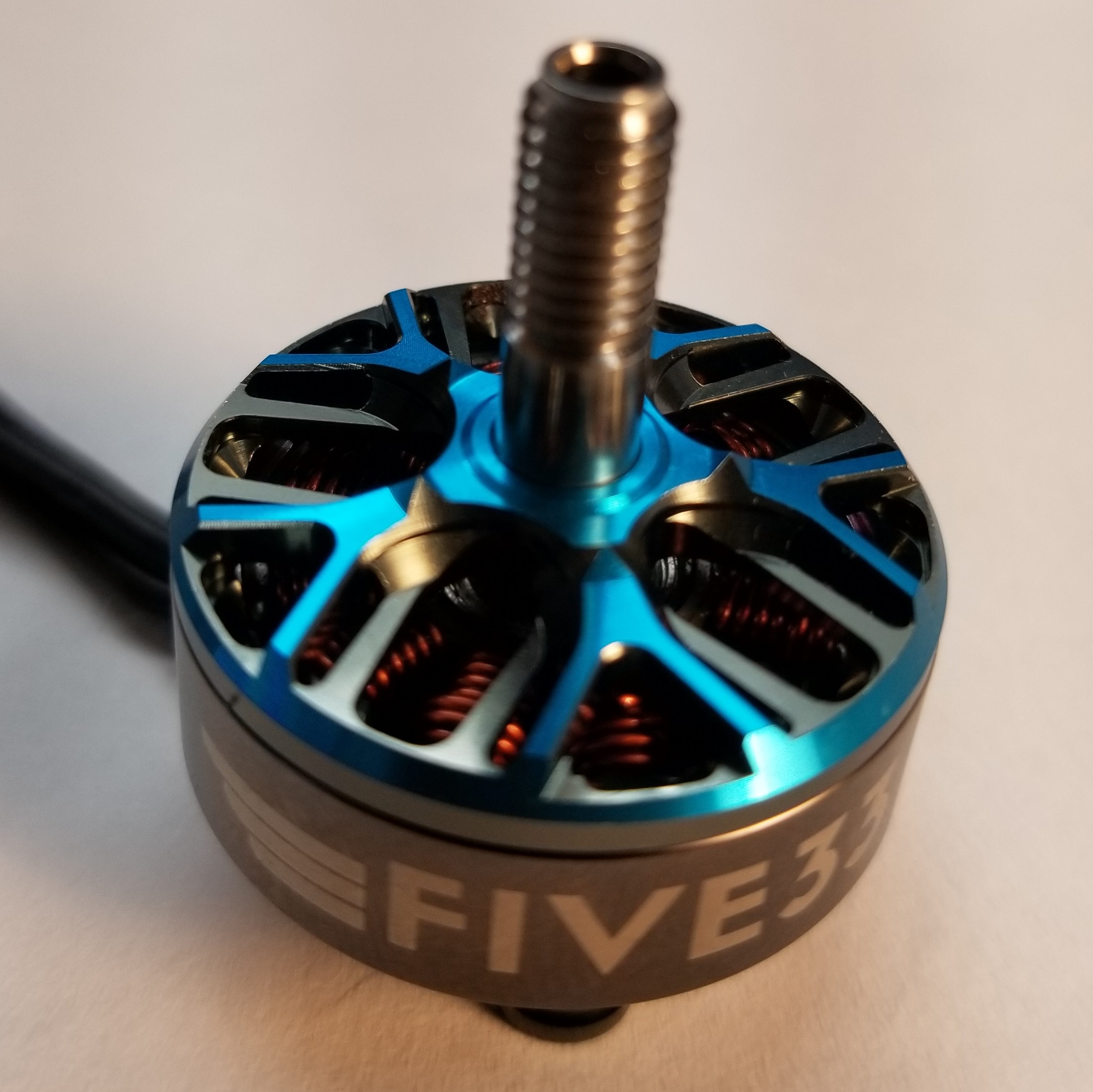 The motor itself (from bottom of the base to the prop line) is relatively tall at 19.8 mm. This is almost 2 mm taller than similar motors, but due to other design choices, this motor is also the second lightest we've measured in its class at 29.3 g with 4 cm wires. For reference: Only the Brotherhobby UC is lighter as of the time of this article.
Thrust wise, the motor is another step up in the recent trend of higher KV motors designed for 6S batteries. Compared to motors with similar design features (RCInpower GTSV2, Hyperlite 2207.5 1922), the Five33 motor produces ~100g more thrust at a cost of 5 amps more current draw.
Discussions with Evan reveal that his intention for the motor is to be paired with his relatively low-pitch HQ R38 prop. He believes that a high KV motor paired with a light prop will give the most responsive feel. Evan's claim is that he can go full send for 1:30, or tone it back for 2min+ on his frame/motor/prop.
This is a well designed motor with some great features designed specifically for a lightweight racing quad on 5S or 6S. It appears to be a thoughtful and conscious design with a complete package (motor, prop, frame) in mind. It is a solid contender for any top of the line racing build, as long as it isn't overpropped.
A note on props: Many of the newer generation props are testing poorly on the thrust stand. This includes the gemfan hurricane, the t-motor props, and the R38. The test results do not mean they are bad props, it simply means that they were designed for moving through the air, and not for sitting on a thrust stand with no airspeed. Please don't use this data to compare multiple props on a given motor, but it is likely that some insight can be gained by looking at a single prop across different motors. Personally, I suggest comparing the HQ 5x4.3x3 PC on any given racing motor. It's not the prop I use, but it gives consistent and predictiable results during tests, which can be extrapolated to other props.