Diving into the newer version of the DYS Storm 2207-1750KV design, with some interesting physical measurements that their marketing department probably did not think would be done.
Check out the full list of motors in this series here
Summary
Published: Feb 27, 2019 by babailey
Over all the build quality is quite good on these motors. Definitely a step up from some of their offerings from a couple years ago. The shaft and bearings were a weak point back then, and now are very good, with tight motor shaft tolerances and quality bearings. That was true well over a year ago when the the Storm 2207-2500KV motor was reviewed on this site, and is true now. There have also been some design changes since then, which amount to a 2 gram savings. That is quite significant. I do not have that previous motor on hand for a direct comparison, so I am not sure where all of the weight was saved, but it would seem that most of it was due to removing the winding guard on the base, and from switching to a titanium shaft.
They were kind enough to send a full set of motors to try, and I have been racing with them on one of my quads for a few months. I can say from experience that the design choices they did to save weight did not hurt the durability of the motor at all, because these have been quite robust. I have not damaged any bearings to the point where it is noticeable in flight, and I have not bent anything. In one crash the retaining clip popped off, but that was certainly extenuating circumstances, because I nailed a ¾" solid steel pole. To be honest, I am surprised it held up as well as it did.
Something I found interesting on the spec sheet was the note about 0.1mm lamination thickness. That could mark DYS as a leader in technology/process improvement in small brushless motors, because all of the other high quality racing/freestyle motors use 0.15mm laminations as far as I know. I had heard some skeptical comments about whether they were being honest, but I am not a fan of speculation like that, so I decided to measure it for myself using an extremely accurate optical measurement system I have access to. Turns out they are in fact 0.15mm thick.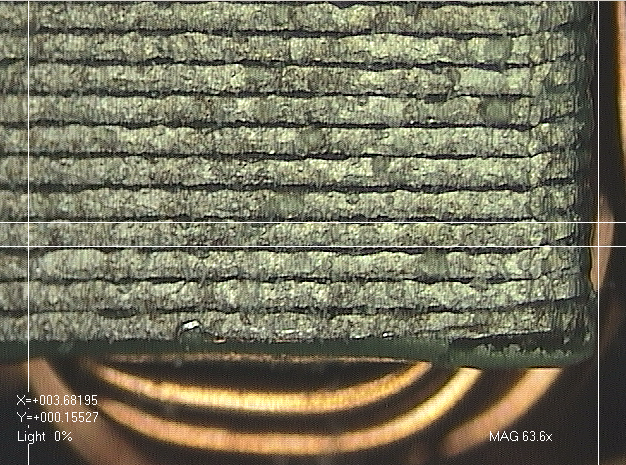 Although the KV tests true to the designation, this motor behaves more like a lower KV motor from a thrust and efficiency standpoint. Performance numbers are almost identical to the BrotherHobby 2207 1660 KV, while the HGLTech Flame HF2207 1775kv is producing significantly more thrust, but at the cost of increased current draw, and reduced efficiency.
Efficiency is important to consider for anybody trying to survive a MultiGP - length race without running a monster battery. That said, this would be an excellent racing motor for anyone using 6S 1050-1300mah packs. It will be versatile across a range of prop pitches, for those wanting to move up/down on the thrust / efficency scale.